"The Welcoming" Immigrant Rights Peace Sculpture For the U.S border with Mexico.
A "Statue of Liberty for our time,"
...this time on the U.S. border with Mexico, in Laredo, Texas.  Support our immigrant rights project and our vision, supporting peace and cooperation with Mexico, South America and Central America.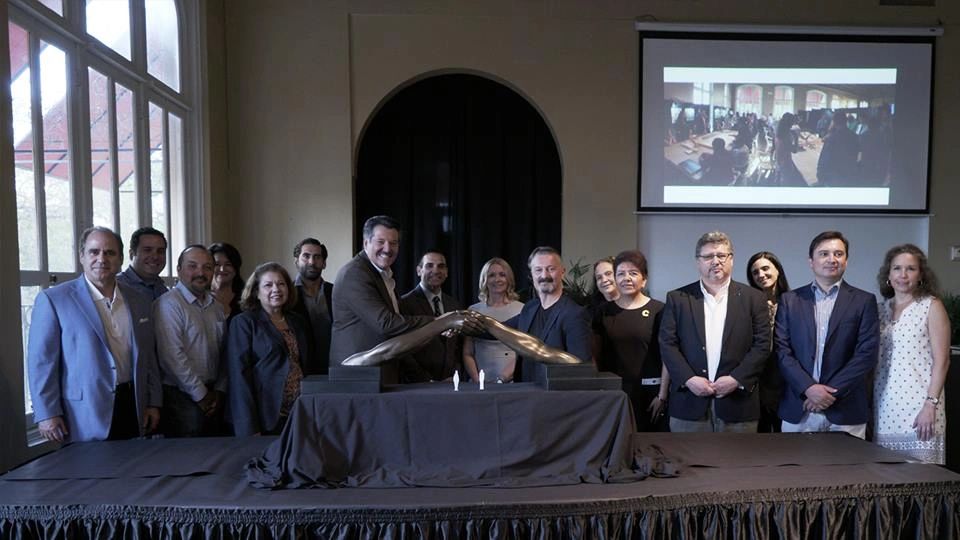 Marcello Giorgi unveils the maquette for "The Welcoming" sculpture  that will be installed at the U.S.-Mexico border in Laredo, Texas. OWHR Institute-Quebec/Arts Way Home Charitable Fund presents our maquette sculpture, gifted to The City of Laredo.
Pictured are members from the City Government of Laredo, including Mayor, City Manager and City Councilors, the Abrazo Partners (four architectural team consortium on our project), Laredo College staff and the Consular General of the Mexican Consulate in Laredo.
Your contribution builds this long-overdue "Statue of Liberty for our time," on the U.S. Border with Mexico, ...to finally be located on the Mexican approach to a major US Inland Port of Entry.  This site is a city owned four block newly designed plaza for the citizens of Laredo, Texas and the world to enjoy and visit and to make sure our future paradigm will honor those who have come from Mexico, South America and Central America.  Here above, you see "The Welcoming" Immigrant Rights Peace Sculpture maquette that was gifted to the City of Laredo.  OWHR Institute-Quebec and our U.S. based Arts Way Home Charitable Fund, in collaboration with world renown Italian Sculptor, Marcello Giorgi and his Associate, Nathalie Purchio (who together own and operate The Italian Arts Center in Montreal), we together gifted this beautiful maquette immigrant rights sculpture to the City of Laredo.  Actual size of the monumental bronze, The Welcoming Immigrant Rights Peace Sculpture for Laredo will be over 65 Feet Long by over 20 Feet high.
DONATE NOW
Contribute generously to "The Welcoming" Immigrant Rights Peace Sculpture and build our momentum for our beautiful, important immigrant rights monumental bronze sculpture, over 65 Feet long by over 20 Feet high.  Your  contribution to build this long-overdue "Statue of Liberty for our  time," (this time on  the U.S. border with Mexico) on Laredo city land, at the approach to the largest Inland Port of Entry in the US, in Laredo, Texas will  be U.S. tax deductible.
Your check, made out to Arts Way Home Charitable Fund can be mailed to:  
Arts Way Home Charitable Fund Inc, P.O. Box 48696, Washington, D.C 20002.
Thanks for your support!
"The Welcoming" Immigrant Rights Peace Sculpture
comprehensive artswayhome.org website page link is below:
From our arts artswayhome.org website homepage you are only a click away from our Facebook site!

Marcello Giorgi
Marcello Giorgi is a Master Sculptor in the classical figurative style. Marcello Giorgi was born in 1962 in Pietrasanta, Italy, a city steeped in art, traditionally recognized for the quality of the work of its master artisans and famous for the creation of marble and bronze sculptures. Pietrasanta's enduring artistic heritage continues to this day due to the flourishing of significant works by many of today's most influential artists. Marcello's love of the classical tradition defines him as a pre-eminent portrait sculptor. Marcello attended the Pietrasanta Art Institute 'Stagio Stagi'. At the age of sixteen entered into a ten year apprenticeship at the Claudio Mariani Foundry, learning from master artisans the techniques of mold making and bronze casting. He was selected in 1988 to assist the acclaimed Polish sculptor Jgor Mitoraj which gained him an in-depth understanding of figurative art and form along with the further mastery of clay modelling methods.In 1991 he founded his own sculpture studio in Pietrasanta, assisting many of today's major contemporary artists, and with his extensive knowledge and experience worked on a wide range of successful collaborations. Marcello has now relocated to Montreal, Canada with his Montreal partner and fiancee thus allowing him to work in close association with the OWHR Institute-Quebec. His works can currently be found in museums, public spaces and in private collections around the world.
Steven Fischler-Filmmaker
Award winning filmmaker Steven Fischler will prepare the "Immigration and Immigrant Rights" multi-media video installation to accompany "The Welcoming" Immigrant Rights Peace Sculpture placement in Laredo, Texas, working in collaboration with the City of Laredo.
Steven Fischler is a recipient of numerous awards including a Guggenheim Fellowship in Film, Emmy Award, Cine Golden Eagles and the John Grierson Award for Social Documentaries. He and Joel Sucher founded Pacific Street Films in 1971, and they have produced and directed documentary films for venues as diverse as the United Nations, the BBC and commercial and public television in the United States. These include portraits of Hollywood artists like Martin Scorsese, Oliver Stone and Jessica Lange, as well as investigations of police surveillance and misconduct. Pacific Street Films produced many social and historical documentaries, such as "From Swastika To Jim Crow," which tells the story of Jewish Refugee scholars driven from Germany by the Nazis who found teaching positions in the Jim Crow South. Both the Museum of Modern Art and the Harvard Film Archives have honored Pacific Street Films with career retrospective programs.
Pacific Street Films has produced major museum exhibitions. They partnered with the Museum of Jewish Heritage in NYC on an exhibit -- based on their documentary -- entitled, "Beyond Swastika and Jim Crow: Jewish Refugee Scholars at Black Colleges," which toured African American and Jewish venues nationwide for several years. They have also produced exhibits for the Museum of Natural History and other institutions. Steven Fischler was the director of the PBS documentary, "Beyond Wiseguys: Italian Americans & The Movies" and the producer of "Dressing America: Tales From The Garment Center," broadcast in 2014. Fischler wrote and directed the documentary, "Five Finger Discount: A Crooked Family History," based on the best selling memoir by Helene Stapinski, which had its broadcast premiere on Thirteen/WNET in March of 2017.
"The Welcoming" Sculpture presentation by Isaac Romano and Matt Adams (see photo above) speaking jointly in Rome.
Speaking in Rome, July 26th 2019 at the 36th International Law and Mental Health Congress, Arts Way Home Executive Director, Isaac Romano introduces The Welcoming Immigrant Rights Sculpture. Isaac's conference presentation was entitled, Cultural Memory: The Role of Remembering and the Politics of Forgetting. Here is an excerpt from Isaac's presentation (Note: our apology for audio distortion experienced. We believe you will still discern its meaning and the importance of this topic and presentation, for the U.S. Latin American and European audience in attendance!):
Also presenting was Matt Adams, Legal Director of the Northwest Immigrant Rights Project (Seattle) and an Arts Way Home Charitable Fund, Inc Board Member and Staff Advisor. Matt Adams provided a succinct, detailed analysis, from his years of successful legal work supporting immigrants and immigrants' rights.  In fact, Matt and his legal team had won a major decision in the Federal U.S. Courts against the White House and its Justice Department, just prior to his arrival to speak in Rome. We applaud Matt's fine work.  Watch for Matt Adams' presentation-excerpt, video coming soon, Title: The Legal Context for The Welcoming Immigrant Rights Peace Sculpture on the U.S. Border with Mexico: A Historic Opportunity to Advance Rights through Public Education :  
Here below is a photo sampling from our organizational Skype meetings with Arts Way Home Charitable Fund, Inc's Board of Directors members, Isaac Romano (Upper Left) and U.S. constitutional and human rights lawyer and Arts Way Home Charitable Fund, Inc's Executive Board member, Jonathan Hafetz (right photo). This meeting was on Skype with "The Welcoming" Sculpture Project Team staff member, Reverend Colin Bossen (lower left), Senior Minister of the First Unitarian Universalist Church of Houston and human rights leader. Progress and plans for fundraisers and community events are underway, with the help of these and many other leaders of this important project for Laredo, Texas and the nation. Celebrating and honoring Nation to Nation familia cooperative relations with Mexico. This project exemplifies Policies of Generosity. Example of "Abrazo (An Embrace!).
Acknowledging the traditional peoples
and territories here in Quebec and Montreal
The traditional peoples of the Montreal area are les Haudenosaunee(Mohawk).
In Quebec, we also acknowledge the Inuit, les Abenakis, les Algonquins,
les Atikamekws, les Crees, les Malecites, les Mi'kmaqs, les Innus, les Naskapis,
les Wendats and Mohawks and the Metis (les Metisses).