encyclopediacanada.com/.../30509-folk-and-feminist-music-inspired-me-to-take-on-social-change
A Younger, More Bearded, Isaac Romano
OWHR Institute-Quebec Director, Isaac Romano is pictured during a 2006 interview on CNN Anderson Cooper 360
OWHR Institute-Quebec Director, Isaac Romano hosts major OWHR 2007 war resister, war resistance conference.  Isaac Romano, at the podium, introduces the panel of eminent historical leaders of peace.  On the panel, from left to right, Vietnam War anti-war activist and California Senator, Tom Hayden; former military and Pentagon-White House advisor, turned peace activist,  winner of the Right Livelihood Award and historically famous for releasing The Pentagon Papers, Daniel Ellsberg; peace activist and Middle  East specialist, university professor, Dr. Stephen Zunes, and Canadian former U.N. Ambassador for Disarmament, Peggy Mason.
Historical Moment!  Historical Panel!
Another major panel and the same 2007 War Resister Conference.  Presenters received invites from Isaac Romano for this historical event.  In photo, Left to right is, U.S. Military war resister who deserted to Canada during the Vietnam War and then became a Canadian lawyer representing Iraq U.S. Military Deserters in Canada, Jeffry House, next to him is Daniel Ellsberg, next to Ellsberg is the US attorney that represented Daniel Ellsberg in the famous White House (Nixon) versus Daniel Ellsberg court case, leading human rights lawyer (who also represented Tom Hayden and the Chicago Eight) attorney, Leonard Wienglass and next to him, Tom Hayden.  Illustrious, historical panel.
Dark Canadian WW2 history story, still hidden from the public! 
June 30, 2018 - Montreal Gazette Newspaper Video 
"Refugees to Enemy Aliens: The Little Known Saga of Jewish Internment Camps in Canada" interviews Isaac Romano at the location in Sherbrooke, Quebec, Canada of the internment "prison" that held Jewish refugees as "Enemy Aliens" from 1940-1943.
Isaac Romano in related Times of Israel article: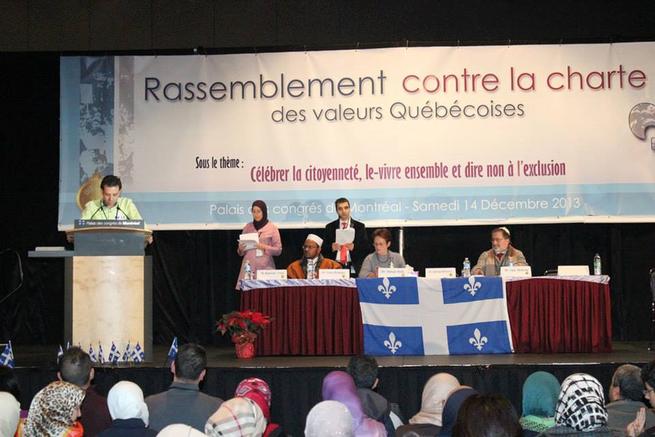 November 10, 2018 News Conference supporting the new Muslim cemetery's  inauguration and addressing hate crimes and Islamophobia in Sherbrooke, Quebec.
Isaac Romano was invited by the Muslim community to speak at the news conference as an ally and address such hate crimes, with a Not in Our Town approach to organizing  against hate crimes, and a All-For-One and One-For-All diversity perspective.  (On line article below. )
SHAFAQNA – ICI.radio-canada par Marion Bérubé avec les informations de Marie-Hélène Rousseau : Dominique Roy fait partie de la poignée de curieux qui ont répondu à l'appel de la mosquée A'Rahmane. La résidente de Sherbrooke s'est désolée du faible nombre de visiteurs. «Ça me déçoit, il faut faire des efforts pour apprendre à se connaître davantage» , a-t-elle affirmé.
Les représentants de différentes communautés religieuses étaient quant à eux sur place pour affirmer l'importance de faire tomber les barrières entre les religions. « Je trouve que c'est essentiel, ça nous permet de démystifier des choses, ça nous permet de se rapprocher, de se connaître » , a ajouté le diacre de l'Archevêché de Sherbrooke, Patrice Grégoire.
«On fait des portes ouvertes à la mosquée, [et] s'il y avait des portes ouvertes à une église, j'irais. On est chrétien, juif, musulman, mais en vrai, on est aussi humain.» Ibrahim Kribeche, jeune bénévole de l'ACIE
Les dommages collatéraux du 11 septembre 2001
Le pacifiste fondateur du Centre culturel juif de l'Estrie, 
Isaac Romano, le vice-président de l'Association culturelle islamique de 
l'Estrie Radhouane Masmoudi et le président de l'Association culturelle 
islamique de l'Estrie Moustapha Saboun.
Sonia Bolduc
La Tribune
(Sherbrooke) Moustapha Saboun et Radhouane Masmoudi ont encore bien frais en mémoire les longs lendemains du 11 septembre 2001. L'image ternie des musulmans «tous mis dans le même sac, tout particulièrement avec les actions de l'administration américaine de l'époque qui a multiplié les accusations gratuites pour se lancer dans des actes de guerre».
Cette image ternie de l'Islam, le président de l'Association culturelle islamique de l'Estrie, Moustapha Saboun, et son vice-président, Radhouane Masmoudi, savent bien qu'elle demeure fragile et qu'un rien pourrait provoquer un nouveau dérapage. Un rien comme cette provocation du pasteur américain Terry Jones qui brandit toujours sa menace d'incendier le Coran et le monde du même bout d'allumette.
«Il y a déjà des dommages collatéraux, regrette Moustapha Saboun. Certains opportunistes vont profiter de cette occasion. Les musulmans ne forment pas un groupe homogène, il y a une minorité d'extrémistes de toutes allégeances que ces événements vont nourrir. Mais comme la majorité de nos frères musulmans dans le monde, nous dénonçons toutes réactions autres que pacifiques et nous saluons les leaders qui ont pris position pour la paix.»
«En tant que Sherbrookois, on ne craint pas une recrudescence de la peur et du soupçon de la part de nos concitoyens, car les Canadiens sont des gens ouverts aux autres capables de faire la part des choses. Ils partagent notre vision de la paix, une vision qui est universelle et chérie par toutes les religions», soulignent Moustapha Saboun et Radhouane Masmoudi.
Aussi ont-ils accepté avec empressement l'invitation il y a deux semaines à une rencontre amicale lancée par Isaac Romano, le fondateur du tout nouveau Centre culturel juif de l'Estrie, afin d'amorcer un rapprochement juif-arabe et célébrer ensemble la fin du Ramadan et le Roch Hachana, le début de l'année juive.
«C'est un homme de paix dont le message nous rejoint, explique Radhouane Masmoudi. Qu'on soit musulmans, juifs ou chrétiens, on ne doit oeuvrer que pour la paix, rien que pour la paix. Ce qu'on fait ensemble, c'est un appel à la fraternité. Ces extrémistes qui vivent dans l'errance doivent demeurer des cas isolés, et c'est à nous, aux gens de la paix, de prendre notre place.»
Si le pacifiste juif Isaac Romano souhaite instaurer une marche annuelle pour la paix dans les rues de Sherbrooke au cours de la prochaine année, à court terme, musulmans et juifs comptent profiter de chaque occasion pour se rapprocher de leur communauté d'accueil et prêcher par l'exemple. Demain encore, à compter de 13 h, l'Association culturelle islamique de l'Estrie invite d'ailleurs les Estriens à prendre part au barbecue qui se tiendra à la base de plein air André-Nadeau, à compter de 13 h, afin de marquer la fin du Ramadan.
November 7th, 2010
Laval News (Laval, Quebec, Canada)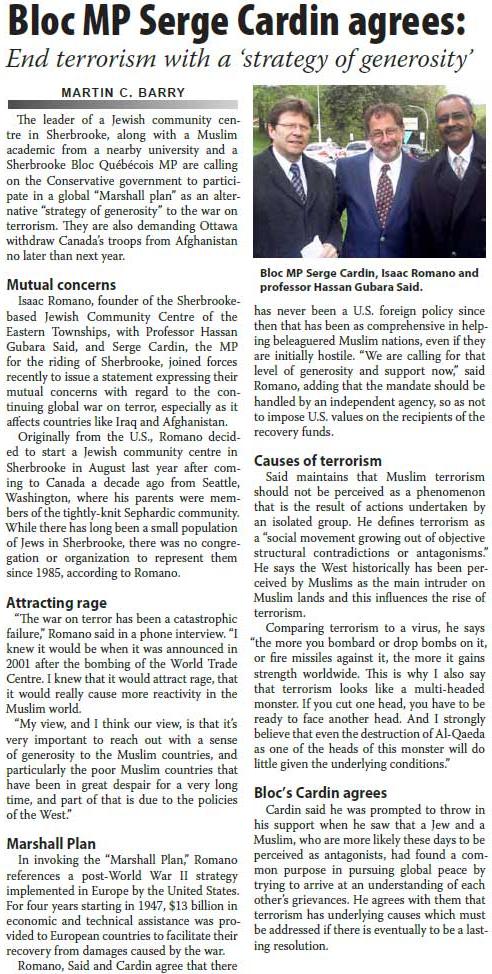 ---
La Tribune La Nouvelle
Publié le 28 septembre 2011 à 13h20 | Mis à jour le 28 septembre 2011 à 13h20
L'héritage de Jack Layton, un message de paix
Isaac Romano
IMACOM, JESSICA GARNEAU

VÉRONIQUE LAROCQUE La Tribune La Nouvelle – Sherbrooke, Quebec
Paix, compassion et générosité. En trois mots, Isaac Romano, directeur du Centre communautaire juif de l'Estrie, décrit l'héritage laissé par le défunt chef du NPD, Jack Layton. Touché par les valeurs du charismatique homme politique, M. Romano souhaitait honorer sa mémoire d'une façon particulière. À ses yeux, la fin du Rosh Hashanah, le nouvel an juif, était l'occasion parfaite.
«Le Rosh Hashanah marque un temps de réflexion pour les individus et la communauté. C'est le temps de laisser derrière soi les choses immatérielles que l'on ne souhaite pas reproduire dans la nouvelle année», explique M. Romano. «Du même coup, c'est le moment de choisir les valeurs et les positions qu'on continuera de défendre». «Plusieurs personnes ont été touchées lorsqu'elles ont appris à connaître les idéaux de Jack Layton», souligne M. Romano. Fervent partisan de la non-violence, le fondateur du Centre communautaire juif de l'Estrie est persuadé que rappeler le message de paix véhiculé par la figure de la vague orange peut avoir une incidence positive sur les relations entre les individus... et les communautés. Juifs, musulmans, chrétiens, bouddhistes, tous sont conviés à un souper, ce vendredi à 18 h 30, au 380, rue Dufferin, en présence du député fédéral de Sherbrooke, Pierre-Luc Dusseault. Cette idée de rapprocher les croyants de différentes confessions n'est pas nouvelle pour le Centre communautaire juif de l'Estrie. Depuis qu'il a ouvert ses portes il y a un an et demi, le centre, fréquenté par une quarantaine de personnes, poursuit cette mission dictée par le Tikkum Olam. «C'est un concept juif qui indique que l'on s'engage à travailler pour réparer la planète, les relations humaines comme l'environnement», décrit M. Romano.
La paix, une avenue possible
Rapprocher les gens de différents horizons, est-ce un défi que l'on pourrait réaliser partout sur le globe, même au Proche-Orient, où les Israéliens et les Palestiniens s'affrontent depuis des décennies? Isaac Romano y croit, à condition que les parties déposent les armes. D'ailleurs, il voit d'un bon oeil la décision du président de l'Autorité palestinienne, Mahmoud Abbas, de demander à l'ONU d'être reconnu en tant qu'État. «Je pense que les Palestiniens devraient utiliser tous les moyens non violents qu'ils peuvent pour obtenir leur propre territoire, leur chez-soi», soutient-il.
Read the English browser - Interpretation of the article here.
---
La Tribune Article
Sept 09 2010
Sherbrooke La Tribune Newspaper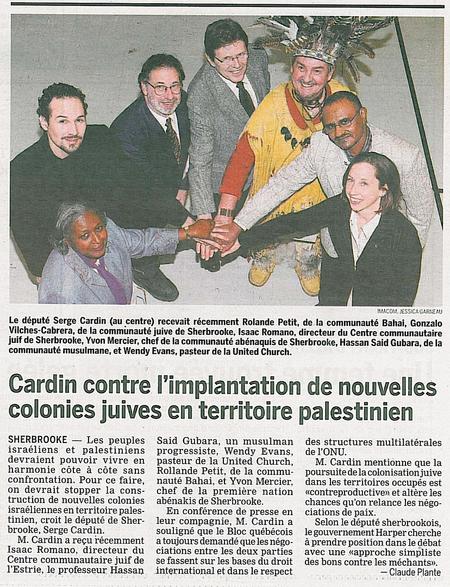 Publié le 04 août 2014 à 12h39 | Mis à jour le 04 août 2014 à 12h39


JUIFS ET MUSULMANS S'ALLIENT POUR DEMANDER UN CESSEZ-LE-FEU À GAZA


Sherbrooke La Tribune Newspaper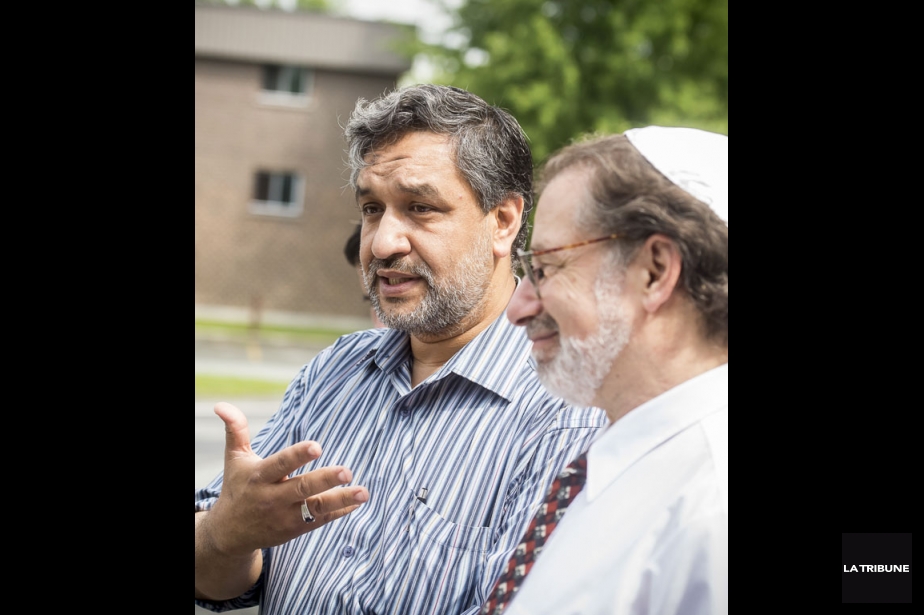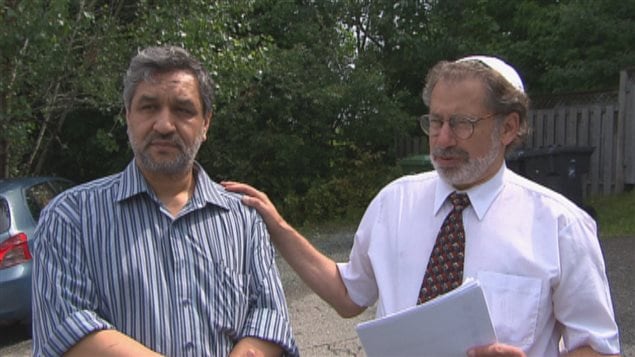 ​
PHOTO IMAGE BY ICI RADIO-CANADA
 ISMAEL TOULOUSE SHERBROOKE THE TRIBUNE
(SHERBROOKE) Les voix s'unissent en Estrie pour dénoncer les atrocités qui surviennent 
tous les jours sur la bande de Gaza.
 
Juifs et musulmans s'allient pour demander un cessez-le-feu.AgrandirMohamed Kounna, 
président de l'Association Culturelle Islamique, et  Isaac Romano, directeur du Centre 
communautaire juif. 
ISMAEL TOULOUSE LA TRIBUNE

Pour envoyer un message commun, l'Association Culturelle Islamique de l'Estrie et le 
Centre Communautaire Juif de l'Estrie et de Montréal entreprennent un jeune d'une 
journée. Se tenant durant le ramadan et le 17e jour du Tammuz, ce jeune de la paix 
fait écho à d'autres activités semblables qui se déroulent partout dans les pays 
occidentaux.L'annonce est émise sur plusieurs fréquences, pour rejoindre le plus 
d'auditeurs possible, mais elle vise particulièrement les hautes instances 
gouvernementales.

« Cette demande est spécialement dirigée vers M. Harper. On lui demande de faire 
pression sur Israël pour des raisons humanitaires, car il en a le pouvoir, pour 
qu'on cesse de tuer des enfants et des civils », indique Mohamed Kounna, président 
de l'Association Culturelle Islamique.Quand des hôpitaux et des écoles remplies 
d'enfants ont été visés par des bombardements, le vase a débordé; les représentants 
des deux communautés ont fait front commun. «Israël ne respecte pas les directives 
de l'ONU, le Canada peut faire partie de la solution, car il a un pouvoir économique. 
Il a plusieurs méthodes de pression. Israël doit revenir à la raison et laisser les 
civils tranquilles. On parle de 2000 morts, 4500 blessés et 80 000 personnes ont 
déserté », s'indigne M. Kounna.

Soit le message ne se rend pas à M. Harper, soit il fait la sourde oreille, car 
à toutes leurs questions, les associations n'ont reçu aucune réponse. Ses 
« intentions sont incompréhensibles », déplorent-elles.Aux États-Unis, certains 
sénateurs se sont levés pour dénoncer, pour ajouter du poids aux voix qui se 
décuplent, mais silence radio du côté nord de la frontière, tant au provincial 
qu'au fédéral.Qu'à cela ne tienne, les deux associations estriennes comptent bien 
multiplier les efforts pour se faire entendre. 

« Nous tentons de livrer un message d'amour, d'équité, 
de générosité qui s'adresse à tout le monde.»

Musulmans et Juifs s'unissent pour dire non à la violence. Des actions doivent 
être prises localement. Chaque nation mérite la paix. À la longue, plus de 
leaders vont se prononcer pour aider les communautés et prendre le risque 
d'instaurer la paix pour que toutes les familles puissent vivre une vie paisible », 
résume Isaac Romano, directeur du Centre communautaire juif. Ce jeune de la paix, 
qui regroupe près de 4500 personnes en Estrie, s'ajoute à la collecte de fonds qui 
a permis de remettre 10 000 $ à l'ONU pour aider les victimes des affrontements. 
Le mouvement estrien prend de l'ampleur, les décibels ne cessent de grimper, 
M. Harper ne pourra les ignorer encore bien longtemps selon eux.Craz
Jewish Community Centre of the Eastern Townships (www.Isaac Romano, Director
Subject: United Church Middle East Statement. The following was Isaac Romano's/JCCET Statement presented at the General Council of the United Church of Canada gathering in Ottawa, August 2012 and was pivital in garnering a successful vote:
I have followed the United Church in its successful plans to prepare a balanced statement regarding the Middle East, in particular, support for Israel, while calling for ways to put pressure on the Israeli government to be more forthright in efforts towards peace with the Palestinians. Toward a future Palestinian State, alongside Israel. This is a necessary outcome, if there is to be peace in the Middle East. Among the ethical, political means to apply this pressure on the Israeli Government is the efforts to boycott goods produced outside of Israel, ... products produced by the Israeli Settlements in the West Bank.
In this historical period, the United Church will get some "blow-back" from leadership elements among Canada's Jewish organizational structure. I want to address this next and why Jewish leadership in the Diaspora is often seen "caught in an eddy" of poor policy statements, in attempts to defend misguided Israeli Government policy toward its neighbors, and subsequent misguided attacks on institutions, such as the United Church and the ethical, balanced Middle East Policy you are presenting (prepared by David Giuliano and his committee) for presentation at the General Council of the United Church.
I fully support your balanced policy position and understand the ethical underpinning of your statement. Please make this United Church "official policy."
I want to make sure you understand that many progressive Jewish rabbis and progressive Jewish leaders in North America also understand and support your policy statement prepared by David Giuliano and his committee.
I also encourage you to keep striving to build relationships to help "shift" Canadian Jewish leadership, where the leadership is supporting policies that are unworkable, long-term. It is in Israel's interest and all countries in the Middle East that you hold to an ethical, balanced position and build relationships, long term with Jewish leaders to help them "shift" their perspective and policy.
Now I wish to say a few words on behalf of the Jewish Community Centre of the Eastern Townships about why much of the Jewish world is caught in this misguided "eddy" of bad policy, when it comes to the Israeli-Palestinian issue and I want to provide what I believe is an effective Jewish perspective, regarding the dangerous Israeli Settlements within the West Bank and Israeli-Palestinian efforts towards a peace settlement :
"First, and importantly, decades of unhealed terror from the Holocaust, the Pogroms, and a history of betrayal at the hands of others have left many Jews unable to sixteen new opportunities for alliance-building, instead reverting back to old fear-based responses that keep Israel isolated. In the end, however difficult it may be to achieve, Israel's full flourishing in the Middle East will require strong relationships with its Arab neighbors. The momentous changes taking place now in the Middle East provide Israel with a new moment to leave behind its historical fear responses and instead lead the way in welcoming the leaders of these new Arab protest movements.
Secondly, we ask the Canadian Jewish community and all Quebecers and all Canadians who care about the lives, security and peaceful future of Israelis and Palestinians to respond favorably to Palestinian leader Mahmoud Abbas' call to end Israeli Settlement building on the West Bank, and provide the foundations for a peace settlement, between Palestine and Israel that allow for a flourishing Palestinian State , next to a flourishing Israel.
Thirdly, we also invite you to think about additional steps we need to take, in order to protect Israelis and Palestinians and secure peace.
1. Anyone who cares about Israeli lives should demand the end of the dangerous settlements of Israelis within the West Bank. They weaken the security of Israel and are not in the least necessary to Israel's existence or self-definition. Indeed, they put Israeli soldiers who are assigned to protect them at totally unnecessary risk, and they require economic investments that would be far more valuable if invested inside Israel. Meanwhile, they and the "bypass roads" that connect them, cut the Palestinian territories into hundreds of isolated segments, and thus make impossible the emergence of a viable and peaceful Palestine: Many settlers use violence against the Palestinians near whom they live; they attract rage from Palestinians whose land, water, and sense of identity they shatter, and they are vulnerable to violence from outraged Palestinians, leading to by far the largest number of Israeli deaths. These settlements are bad for both Israel and Palestine. The settlers should be given the compassionate and honourable choice either to come home to Israel or to live as citizens of Palestine, under Palestinian law and with no special relationship to Israel. 2. Similarly, there will never be peace unless Palestinian neighborhoods in East Jerusalem are allowed to govern themselves in a peaceful way. Any further acts by the Binyamin Netanyahu government to shatter these neighborhoods will lead to increased desperate bloodshed. Jews must oppose such actions, for the sake of the Jewish state and Jewish lives, as well as out of compassion for their Palestinian neighbors whose lives and homes are being destroyed. Instead, the Palestinians in these neighborhoods must be given the right to elect their own leaders now, so as to establish a responsible self-governing body."
Acknowledging the traditional peoples
and territories here in Quebec and Montreal
The traditional peoples of the Montreal area are les Haudenosaunee(Mohawk).
In Quebec, we also acknowledge the Inuit, les Abenakis, les Algonquins,
les Atikamekws, les Crees, les Malecites, les Mi'kmaqs, les Innus, les Naskapis,
les Wendats and Mohawks and the Metis (les Metisses).