OWHR Institute-Quebec Director, Isaac Romano is pictured during a 2006 interview on CNN Anderson Cooper 360
OWHR Institute-Quebec Director, Isaac Romano hosts major OWHR 2007 war resister, war resistance conference.  Isaac Romano, at the podium, introduces the panel of eminent historical leaders of peace.  On the panel, from left to right, Vietnam War anti-war activist and California Senator, Tom Hayden; former military and Pentagon-White House advisor, turned peace activist,  winner of the Right Livelihood Award and historically famous for releasing The Pentagon Papers, Daniel Ellsberg; peace activist and Middle  East specialist, university professor, Dr. Stephen Zunes, and Canadian former U.N. Ambassador for Disarmament, Peggy Mason.
Historical Moment!  Historical Panel!
Another major panel and the same 2007 War Resister Conference.  Presenters received invites from Isaac Romano for this historical event.  In photo, Left to right is, U.S. Military war resister who deserted to Canada during the Vietnam War and then became a Canadian lawyer representing Iraq U.S. Military Deserters in Canada, Jeffry House, next to him is Daniel Ellsberg, next to Ellsberg is the US attorney that represented Daniel Ellsberg in the famous White House (Nixon) versus Daniel Ellsberg court case, leading human rights lawyer (who also represented Tom Hayden and the Chicago Eight) attorney, Leonard Wienglass and next to him, Tom Hayden.  Illustrious, historical panel.
Dark Canadian WW2 history story, still hidden from the public! 
June 30, 2018 - Montreal Gazette Newspaper Video 
"Refugees to Enemy Aliens: The Little Known Saga of Jewish Internment Camps in Canada" interviews Isaac Romano at the location in Sherbrooke, Quebec, Canada of the internment "prison" that held Jewish refugees as "Enemy Aliens" from 1940-1943.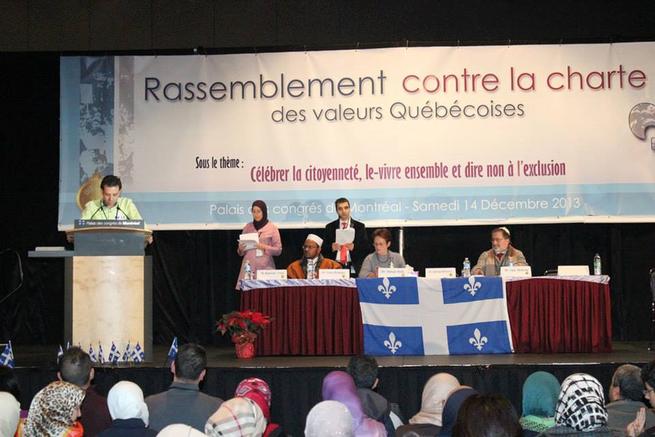 November 10, 2018 News Conference supporting the new Muslim cemetery's  inauguration and addressing hate crimes and Islamophobia in Sherbrooke, Quebec.
Isaac Romano was invited by the Muslim community to speak at the news conference as an ally and address such hate crimes, with a Not in Our Town approach to organizing  against hate crimes, and a All-For-One and One-For-All diversity perspective.  (On line article below. )
SHAFAQNA – ICI.radio-canada par Marion Bérubé avec les informations de Marie-Hélène Rousseau : Dominique Roy fait partie de la poignée de curieux qui ont répondu à l'appel de la mosquée A'Rahmane. La résidente de Sherbrooke s'est désolée du faible nombre de visiteurs. «Ça me déçoit, il faut faire des efforts pour apprendre à se connaître davantage» , a-t-elle affirmé.
Les représentants de différentes communautés religieuses étaient quant à eux sur place pour affirmer l'importance de faire tomber les barrières entre les religions. « Je trouve que c'est essentiel, ça nous permet de démystifier des choses, ça nous permet de se rapprocher, de se connaître » , a ajouté le diacre de l'Archevêché de Sherbrooke, Patrice Grégoire.
«On fait des portes ouvertes à la mosquée, [et] s'il y avait des portes ouvertes à une église, j'irais. On est chrétien, juif, musulman, mais en vrai, on est aussi humain.» Ibrahim Kribeche, jeune bénévole de l'ACIE
November 7th, 2010
Laval News (Laval, Quebec, Canada)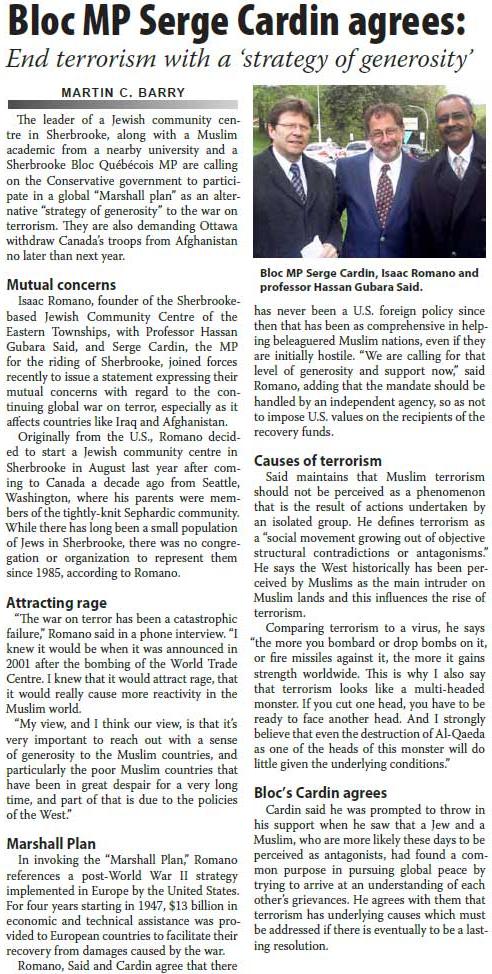 La Tribune Article
Sept 09 2010
Sherbrooke La Tribune Newspaper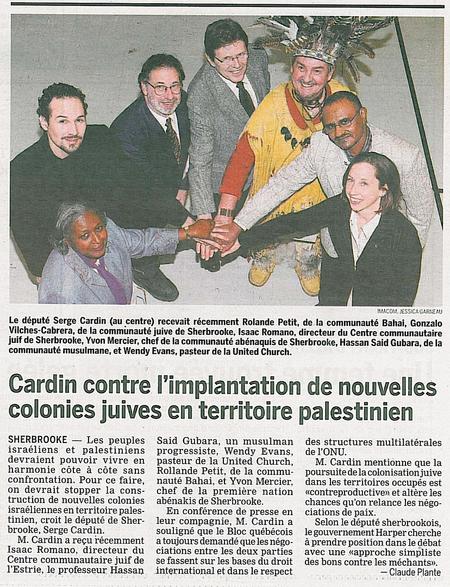 Publié le 04 août 2014 à 12h39 | Mis à jour le 04 août 2014 à 12h39


JUIFS ET MUSULMANS S'ALLIENT POUR DEMANDER UN CESSEZ-LE-FEU À GAZA


Sherbrooke La Tribune Newspaper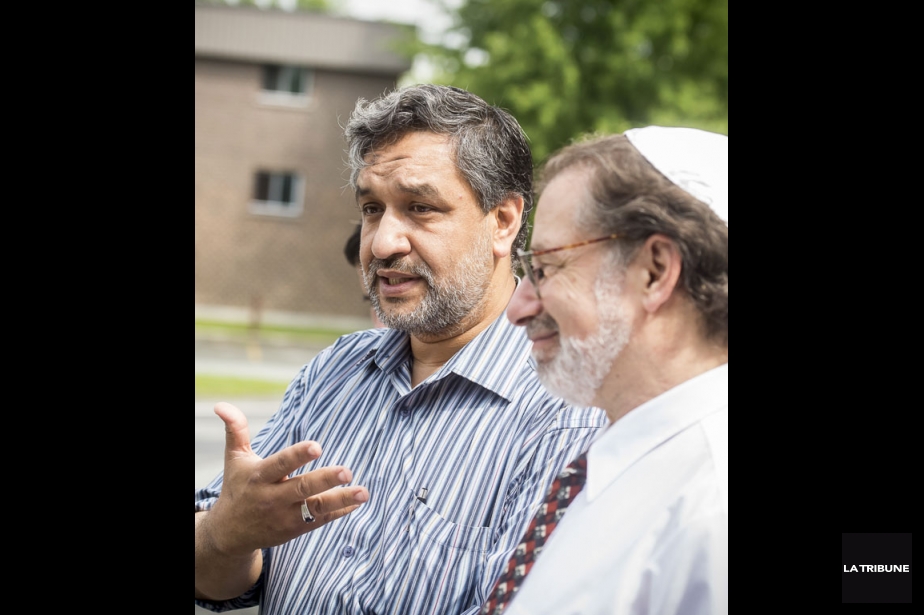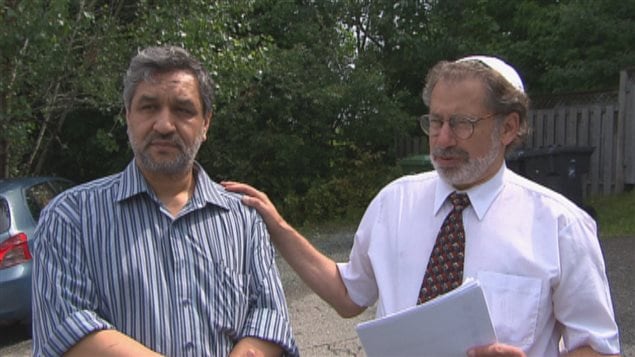 ​
PHOTO IMAGE BY ICI RADIO-CANADA
 ISMAEL TOULOUSE  SHERBROOKE LA TRIBUNE
(SHERBROOKE) Les voix s'unissent en Estrie pour dénoncer les atrocités qui surviennent 
tous les jours sur la bande de Gaza.
 
Juifs et musulmans s'allient pour demander un cessez-le-feu.AgrandirMohamed Kounna, 
président de l'Association Culturelle Islamique, et  Isaac Romano, directeur du Centre 
communautaire juif. 
ISMAEL TOULOUSE LA TRIBUNE

Pour envoyer un message commun, l'Association Culturelle Islamique de l'Estrie et le 
Centre Communautaire Juif de l'Estrie et de Montréal entreprennent un jeune d'une 
journée. Se tenant durant le ramadan et le 17e jour du Tammuz, ce jeune de la paix 
fait écho à d'autres activités semblables qui se déroulent partout dans les pays 
occidentaux.L'annonce est émise sur plusieurs fréquences, pour rejoindre le plus 
d'auditeurs possible, mais elle vise particulièrement les hautes instances 
gouvernementales.

« Cette demande est spécialement dirigée vers M. Harper. On lui demande de faire 
pression sur Israël pour des raisons humanitaires, car il en a le pouvoir, pour 
qu'on cesse de tuer des enfants et des civils », indique Mohamed Kounna, président 
de l'Association Culturelle Islamique.Quand des hôpitaux et des écoles remplies 
d'enfants ont été visés par des bombardements, le vase a débordé; les représentants 
des deux communautés ont fait front commun. «Israël ne respecte pas les directives 
de l'ONU, le Canada peut faire partie de la solution, car il a un pouvoir économique. 
Il a plusieurs méthodes de pression. Israël doit revenir à la raison et laisser les 
civils tranquilles. On parle de 2000 morts, 4500 blessés et 80 000 personnes ont 
déserté », s'indigne M. Kounna.

Soit le message ne se rend pas à M. Harper, soit il fait la sourde oreille, car 
à toutes leurs questions, les associations n'ont reçu aucune réponse. Ses 
« intentions sont incompréhensibles », déplorent-elles.Aux États-Unis, certains 
sénateurs se sont levés pour dénoncer, pour ajouter du poids aux voix qui se 
décuplent, mais silence radio du côté nord de la frontière, tant au provincial 
qu'au fédéral.Qu'à cela ne tienne, les deux associations estriennes comptent bien 
multiplier les efforts pour se faire entendre. 

« Nous tentons de livrer un message d'amour, d'équité, 
de générosité qui s'adresse à tout le monde.»

Musulmans et Juifs s'unissent pour dire non à la violence. Des actions doivent 
être prises localement. Chaque nation mérite la paix. À la longue, plus de 
leaders vont se prononcer pour aider les communautés et prendre le risque 
d'instaurer la paix pour que toutes les familles puissent vivre une vie paisible », 
résume Isaac Romano, directeur du Centre communautaire juif. Ce jeune de la paix, 
qui regroupe près de 4500 personnes en Estrie, s'ajoute à la collecte de fonds qui 
a permis de remettre 10 000 $ à l'ONU pour aider les victimes des affrontements. 
Le mouvement estrien prend de l'ampleur, les décibels ne cessent de grimper, 
M. Harper ne pourra les ignorer encore bien longtemps selon eux.
Acknowledging the traditional peoples
and territories here in Quebec and Montreal
The traditional peoples of the Montreal area are les Haudenosaunee(Mohawk).
In Quebec, we also acknowledge the Inuit, les Abenakis, les Algonquins,
les Atikamekws, les Crees, les Malecites, les Mi'kmaqs, les Innus, les Naskapis,
les Wendats and Mohawks and the Metis (les Metisses).