"Norway is in a better position than the more powerful United States to broker peace deals," has been recitation embraced by the Norwegian as well and the international political and policy establishment. The Norwegian Ministry of Foreign Affairs identifies four elements of the so-called 'Norwegian model': 1) Not being a big power, Norway poses no threat to other countries; 2) Norway does not have a history of colonization and warfare, but, a history of peacemaking and 'peace prize making'; 3) Norwegian peace work is flexible and built upon a combination of state and non-state actors; and 4) Norway combines peace brokering with long-term humanitarian aid.
Foreign Policy Working Group White Paper
The 2017 Foreign Policy White Paper sets out a comprehensive framework to advance and inform our set of values, described beyond just simple national interests, but to include Government's international engagement priorities for Canada.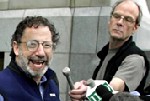 Isaac Romano organizes major media news event!
War resistance and war resister news conference, May 23rd, 2006, national and international news outlets cover this media event on the steps of Vancouver, City Hall in Vancouver, Canada.  Seen with microphone in hand, among the large media scrum that gathered to cover this story, was a national reporter for the Canadian Press.
OWHR Institute-Quebec has brought together a team of Advisory Foreign Affairs analysts with the needed ethical liberation perspective and vision for our future, to guide and assist our work at the OWHR Institute-Quebec:
Dr. Gubara Said Hassan, OWHR Institute-Quebec Advisory Staff and Speicalist with a focus on Islamic Governance, Middle Eastern and African Politics.
Dr. Gubara Said Hassan is a specialist in International Relations with a focus on Islamic Governance, Middle Eastern and African Politics. He is currently a lecturer at the Institute of Policy Studies (IPS), Brunei, where he teaches Islamic Governance, International Relations, Business Ethics and Corporate Social Responsibility. He is also an adjunct professor at the Institute of African Studies, Carleton University, Canada. He had been a researcher and lecturer at Bishop's University and Carleton University, Canada, the University of Helsinki, Finland, University of Oklahoma at Norman, U.S.A. and a Fulbright visiting scholar at Texas A&M University, U.S.A, and University of Bergen, Norway.
He has also contributed significantly to policy reports on International Terrorism and Foreign Aid and Darfur for the Danish Ministry for Foreign Affairs in 2003 and the Government of Finland and the European Union (2007) respectively. Dr. Hassan has also co-authored and published many book chapters and articles and participated in various international conferences, forums and symposia.
Dr. Catherine Richardson is a policy analyst with the OWHR Institute-Quebe's "Foreign Policy" Working Group.
Catherine Richardson/Kinewesquao has Cree, Gwichin and Dene ancestry. Dr. Richardson is an Associate Professor at Concordia University (Montreal) where she is the Director of the First Peoples Studies Program. Catherine was a candidate for the Green Party in the Quebec provincial election in the fall of 2018. She is a co-organizer of the Dignity conferences internationally.  She has produced 12 co-authored, peer-reviewed articles and five which are single-authored; 11 co-authored peer-reviewed book chapters and four which are single-authored.  Her areas of specialization include Indigenous practices and methodologies, supporting children and youth in the context of child welfare and addressing violence against women and children. Her projects are grounded in Indigenous methodologies which include the recognition of traditional lands, contextualzing research and practice historically, in self-location, and with an intersectional analysis of power.  She is a co-founder of the Centre for Response-Based practice, an organization which focuses on addressing interpersonal and intimate partner violence. Dr. Richardson's current research projects include a study on the Metis in Quebec, working with Indigenous youth stories and she is the Quebec coordinator for the Canadian Domestic Homicide Prevention Initiative with Vulnerable Populations.
 Professor Jonathan Hafetz, Advisory Staff with the OWHR Institute-Quebec's "Foreign Policy" Working Group.
Professor Jonathan Hafetz is an expert on human rights, constitutional law, national security, and international justice issues.  He joined Seton Hall University School of Lawl in 2010.  Professor Hafetz is the author of Habeas Corpus after 9/11: Confronting America's New Global Detention System (NYU Press 2011), which received the American Bar Association's Silver Gavel Award for Media and the Arts, Honorable Mention, and the American Society of Legal Writers, Scribes Silver Medal Award.  He is the editor of Obama's Guantanamo: Stories from an Enduring Prison (NYU Press 2016) and the co-editor (with Mark Denbeaux) of The Guantanamo Lawyers: Inside a Prison Outside the Law (NYU Press 2009). Professor Hafetz's scholarship has appeared in many publications, including the Yale Law Journal, UCLA Law Review, Columbia Law Review Sidebar, Wisconsin Law Review, William & Mary Law Review, International Journal of Human Rights, and Cambridge Journal of Comparative & International Law, and has been cited by numerous courts, including the U.S. Supreme Court.  He is currently working on a book about international criminal justice, to be published by Cambridge University Press.
 Reverend Colin Bossen, Advisory Staff with the OWHR Institute-Quebec's "Foreign Policy" Working Group.
Reverend Colin Bossen holds a Ph.D. in American Studies at Harvard University.  He is Senior Minister of the First Unitarian Universalist Church of Houston.  His academic work focuses on the relationship between theology and social movements. He has been involved in justice struggles for more than two decades, primarily working with indigenous communities, migrants, and marginalized workers in the transportation industry. He was a co-founder of CASA - Colectivos de Apoyo, Solidaridad y Acción, an organization which from 2001 to 2011 coordinated solidarity work with indigenous communities in Chiapas and Oaxaca, Mexico. Currently, he is part of forming a faith based committee to support the work of the IWW (The Industrial Workers of the World) Incarcerated Workers Organizing Committee in their effort to build a prisoners union. Reverend Colin Bossen is co-author, along with Julia Hamilton of "Resistance and Transformation: Unitarian Universalist Social Justice History."
Dr. Deiter Duhm, Advisory Staff with the OWHR Institute-Quebec's "Foreign Policy" Working Group.
OWHR Institute-Quebec Advisor is Dr. Dieter Duhm and the Institute for Global Peace Work, Tamera (Portugal). Advisory Specialist to the OWHR Institute-Quebec's Foreign Policy Working Group.
  Peter Cohen,Advisory Staff with the OWHR Institute-Quebec's "Monitor and Policy" Working Group.
Peter Cohen is OWHR Institute-Quebec Advisory Staff with our immigrant rights sculpture project, in partnership with the City of Laredo. Peter Cohen holds a Masters Degree in Political Science from Rutgers University and a Masters degree in TESOL from New York University. Primary field and expertise, Cross-Cultural Relations. Peter Cohen has spent twenty-five years as an educator in New York City, Mexico, Spain and China. Peter is an instructor in the Humanities Department of Champlain College in Sherbrooke, Quebec, Canada. He is also Program Director of the Cross Cultural Center at Santo Domingo, Dominican Republic. Peter Cohen sits on the Advisory Board of the Dominican Republic Sports & Education Academy.
Isaac Romano is founder and executive director of the Our Way Home Research Institute for War Resistance and Policy Alternatives - Quebec and co-coordinator of the Quebec chapter of the Network of Spiritual Progressives. He is director of the Jewish Community Centre of the Eastern Townships and Montreal – NSP. Originally from the leadership of Seattle's Kadima, Isaac Romano's welcoming diversity skills and bridge-building programs have brought major media attention to his war resistance and community building projects in the US and in eastern and western Canada. His perspective on applying Policies of Generosity to foreign and domestic policy and bridging differences. as a fierce ally to all groups, is a far reaching human liberation paradigm for our times that parallels his informed environment and social responsibility perspective, toward steering our world through these most challenging of times, a head of us.
OWHR Institute-Quebec "White Paper"
OWHR Institute for War Resistance and Policy Alternatives-Quebec
OWHW Institute is preparing conferences and Working Groups to bring Canada's Prime Minister, Justin Trudeau and the Trudeau Government, with three of the four key political parties, Liberal Party of Canada, NDP-New Democratic Party and Green Party of Canada to move their foreign and domestic policies to embrace the New Bottom Line paradigm and "Policies of Generosity" (outlined in OWHR Institutes' Vision an Mission Statement), replacing the power and domination model of leadership and foreign policy that has been ineffectively used by Canadian governments (and the world's governments), till now.
Why this new political paradigm for Canada? Canada and its political systems and leadership are available to shift more easily than most Western Countries, when better approaches are established that will align with our view that people everywhere are "deserving of love and caring just for who they are as embodiments of the sacred."  In the coming era, this new paradigm, Policies of Generosity will be seen by at least three of Canada's four political parties as "key" to human survival in the complex social and environmental ecology that will affect the web of life, due to climate change and the need to move to a new, just, economic and political model.
This ability for Canada and its leaders to more flexibly "shift" to the New Bottom Line paradigm in the critical period ahead for human kind is also more likely to enhance Canada's position as a "key ally" to halt the US or other nation's progression toward world-wide destabilizing policies and halt the policies of the US or other nations to once again take our world to major conflict or World War.
Canada's New Bottom Line model will then be seen as replicable by countries around the world and will be promoted by Canada, the UN and other international bodies as a replicable model, taking our world  out of the old quagmire of "power and domination" that will then be seen as an old dysfunctional model and "relic of the past," to be discarded.
This "New Bottom Line" White Paper paradigm will lead to structural change for Canada (and will be an effective model for other nations) and will include: 1. A Global Marshall Plan*  2.  Environmental and Social Responsibility Charter of Rights and Freedoms*
OWHR Institute has prepared our overall vision and the associated projects to then work with political leadership to embrace overarching values included in these "Policies of Generosity," coming from "deep understanding" in the hearts of our leaders that all people and all living things are the embodiment of the Sacred.
Acknowledging the traditional peoples
and territories here in Quebec and Montreal
The traditional peoples of the Montreal area are les Haudenosaunee(Mohawk).
In Quebec, we also acknowledge the Inuit, les Abenakis, les Algonquins,
les Atikamekws, les Crees, les Malecites, les Mi'kmaqs, les Innus, les Naskapis,
les Wendats and Mohawks and the Metis (les Metisses).